It's ok. Really, I'm alive.
The last few weeks have been loco, with loads going on. I have been working on a freelance project that is moving quite quickly - so quickly in fact that I haven't even had time to do small, necessary tasks, like tweeze my eyebrows. Frida Kahlo, eat your heart out.
My client has just bought a two bedroom flat in the lovely environs of Notting Hill and I have been tasked with designing the living room, bedrooms, and dining room. Work has already begun on site in the living room and bedrooms (ripping out a fireplace and shelves, wiring for wall lights, etc.), but this coming week I will be turning my attention to the dining room.
The built in cupboards provide ample storage, so there is no need for a sideboard, and the walls are to remain neutral. I'm literally just kitting out the space with seating, a table, lighting and accessories.
My client isn't a huge fan of curtains, so ideally I would love add some texture to the space with a banquette under the windows, and an abundance of pillows, like so: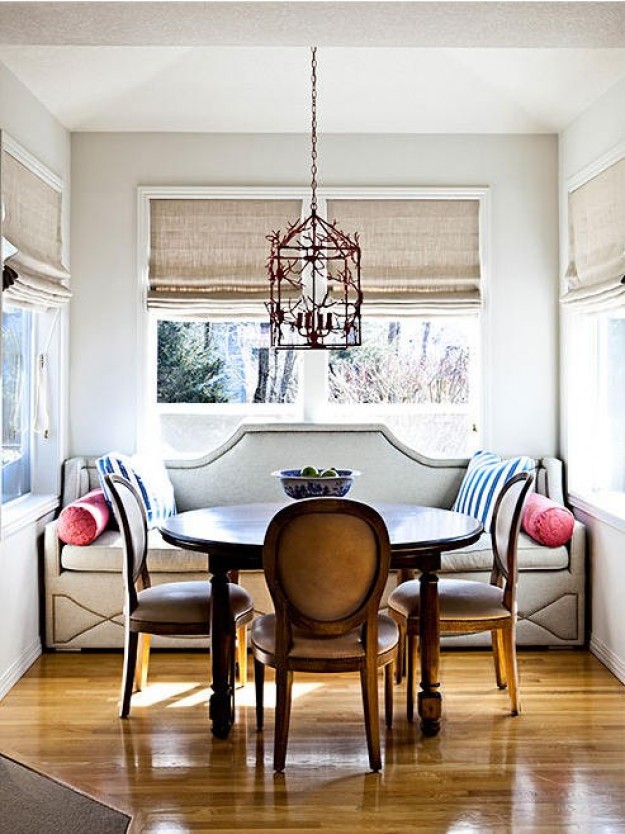 I love that this look is completely versatile - it provides heaps of options, as the banquette looks great with round, square or rectangle tables. Fingers crossed that my client agrees and gives me the go ahead!